Hack

Philly Gift Basket Raffle
Proceeds to support David Morse Online
Tickets: $1.00 each or 6 for $5.00
Winner(s) to be chosen on April 1, 2004
(extended from March 15, 2004)
In Philadelphia
Prizes: 2 Hack Philly Gift Baskets (Each basket's estimated value $50.00)
Non-Philadelphia Residents: One Philly Gift Basket assembled specifically for non-Philadelphia residents will consist of all Philly items
Philadelphia Residents: Philly Gift Basket assembled specifically for Philadelphia residents, the home of Hack.
The prize baskets do not include any autographs by David Morse or any official Hack items. However, each basket will include 2 handmade Hack related items and a special Hack interview from a local newspaper, containing a great photo of David Morse.
The Hack Philly Gift Basket for non-Philadelphia residents will also contain photos of the actual places where some of the episodes have been filmed.
Please specify which raffle (Philadelphia or non-Philadelphia) you are entering and send a check or money order to Maryann Smialkowski, the independent official Hack Philly Gift Basket Raffle administrator, at:
Maryann Smialkowski
4467 E. Thompson St
Philadelphia PA 19137

If you want to enter the Raffle via Pay Pal, use this link:
Be sure to specify that the Pay Pal funds are for the Hack Philly Gift Basket Raffle and which Raffle you are entering (Philly or non-Philly).
Questions? Contact Maryann at ejs7921@earthlink.net
You will receive your ticket stub(s) by return postal mail. The two winners will be chosen on April 1, 2004, by a random drawing of all entrants. The winners will be announced on David Morse Online and by e-mail.
Hack Philly Gift Basket Raffle Prize Details:

Hack Philly Gift Baskets - Non-Philadelphia Residents
Liberty Bell
Art Museum mug
Candle
Bookmarks
Art Museum Note Pad
Pasta
Keychain
Olshansky cab fare
Bridesburg Star newspaper
Wind chime
Taxi magnet
Photo Post Cards
Photos of film sites
Mouse pad
Handmade Liberty Bell Magnet
Brass Philadelphia city skyline tree ornament
Lights of liberty pin
Package of Bean/Bacon soup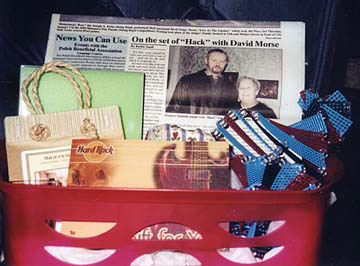 Hack Philly Gift Baskets - Philadelphia Residents
$25 Gift Card for the Hard Rock Café.
Pasta
Olshansky cab fare
Taxi magnet
Wind chime
Handmade Liberty Bell Magnet
Bridesburg Star newspaper
Package of Bean/Bacon soup