Posted on Wed, May. 15, 2002
Gail Shister | Philadelphia a star in new CBS series
The network is to announce its plans today for
Hack

, a drama to be produced and shot entirely in the city.

By Gail Shister
Inquirer Columnist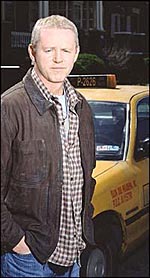 Philadelphia, get ready for a Hack attack.

Hack, believed to be the first prime-time network series to be shot and produced entirely in our town, has made the fall schedule, CBS will announce today.

Ka-ching!

The production could generate an estimated $68 million a year in goods and services in the region, according to Sharon Pinkenson, executive director of the Greater Philadelphia Film Office.

"In terms of materials, actors and expenses, it's like making a low-budget movie every week," Pinkenson said yesterday before leaving for the Cannes Film Festival.

No comment from CBS. Also, no word on how many hour-long episodes have been ordered, but generally it's 13 for a new drama. Industry insiders say Hack will air on Saturdays - the least-watched night of the week.

Hack stars area resident David Morse (Proof of Life, St. Elsewhere) as a disgraced Philadelphia cop-turned-cabbie who helps people as he tries to win back his reputation and his family.

Originally intended for New York,Hack was rewritten for Philly when Morse was cast, because he wanted to stay close to his wife and children. The pilot was shot here in March.

Andre Braugher, best known as ultra-intense Detective Frank Pembleton on NBC's Homicide: Life on the Street (1993-99), costars as Morse's friend and former partner. David Koepp (Spider-Man) and Gavin Palone (Panic Room) are executive producers.

CBS's announcement comes 24 hours after ABC confirmed that Philly, featuring Roxborough's Kim Delaney as a Philadelphia defense attorney, will not return for a second season.

When Pinkenson got the news about Hack in an e-mail from a producer yesterday, "I screamed," she says. "After what happened to Philly, I was crossing my fingers it wasn't more bad news."

Pinkenson estimates that Hack will employ more than 100 people on a full-time basis, including actors, producers, technicians and laborers. Naturally, they will all pay Philadelphia wage tax.

Hack is the first network prime-time series since the Baltimore-based Homicide to be produced on location in a city other than Los Angeles or New York, Pinkenson says. Production is expected to begin in June.

Having Hack here will be a boon to the city's national image, says Meryl Levitz, president of the Greater Philadelphia Tourism Marketing Corp.

"It's a great way to show the scale and scope of the city, and to feature some sites beyond the Liberty Bell and the Rocky statue. The life of Philadelphia is on the street."

Philadelphia-set shows such as the late, great thirtysomething and Philly "could never capture the soul of the city," Levitz says, because they were produced mostly on soundstages in L.A.

"Actually being in Philadelphia is very different from having somebody carrying a Strawbridge's shopping bag and pretending they're in Philadelphia," Levitz adds.

Because Hack is about a cab driver, Morse's character will be tooling around many neighborhoods that most of the country has not seen before.

"It will show real Philadelphians in their real environments," Pinkenson says. "He'll be everywhere - Manayunk, the Northeast, Southwest Philadelphia, Northern Liberties, Germantown, North Philly."

A fringe benefit is that Hack will make the city more attractive for big-screen films, she adds.

"All that steady work for crew and actors helps your people get more in-depth skills. So the next time someone wants to bring a feature to town, there's no question that we have qualified people."
---
Contact Gail Shister at 215-854-2224 or gshister@phillynews.com.