Posted on Thu, Aug. 15, 2002
'Hack' crew sets up shop on Philly's steamy streets
By David Hiltbrand
Inquirer Staff Writer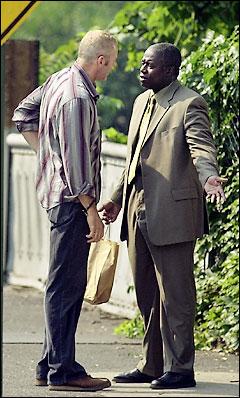 Welcome to the glamorous world of network television. Out in West Philadelphia, CBS is shooting Hack on Aug. 14, a day when a fry cook would need only a spatula to open up business right on the sidewalk.

It is sweltering. And director Harry Winer has appropriated the only shade on 42d Street just south of Girard Avenue, sitting under a portable canopy and watching on a pair of monitors as stars David Morse and Andre Braugher rehearse and shoot the same scene over and over.

Makeup artists hover near the actors like remora fish around sharks, running up every few seconds with paper towels to blot sweat off their faces. Morse, a rangy 6-foot-4, bows at the waist so a woman can dab sunblock on the crown of his close-cropped head. Each man has his own pile of color-coded hand towels, which are handed to them between takes as if they are NBA players coming off the court.

As the cameras set up for another take, Morse concedes that the weather is taking its toll. "Energy-wise, there are points in the day when everyone is ready to melt into the tar," he says. "But you can't give in, because there's not a lot of time to lose."

Indeed Hack - the first prime-time network series to be shot entirely here - is an extremely time-intensive proposition. Unusual for a series, the program so far has been filmed exclusively on the city's streets. And that approach really chews up the hours.

"We're moving around, shooting a lot of scenes at different locations," producer Nan Bernstein says. The logistics are daunting. An armada of trucks and trailers lines a whole block of Girard.

"It's very debilitating," Bernstein says. "We have to pack up all the equipment, move it, unpack it, and set it up all over again. It's going to take us four or five episodes to get our sea legs."

The series, the story of a disgraced Philadelphia police officer now helping people while driving a cab, is being produced locally because its star, Morse, resides here and wanted a project that would allow him to preserve a normal family life. But he hadn't anticipated Hack's grueling schedule. "We've only had one day where we didn't work more than 12 hours," says the actor who plays hero cabbie Mike Olshansky. "Sometimes it's as many as 18."

Still, the former St. Elsewhere star prefers this situation to being away for long periods on film locations, such as the four months he spent in Ecuador working on Proof of Life (2000). "At some point in the day, my kids can see me," he says. "It's a much more relaxed feeling. They can sit in my trailer and watch videos and eat M&Ms."

Better not bring those candies out on the street, kids, because on a day like this, they will melt in your hand. Yet Braugher looks remarkably cool and collected, despite the fact that he is trussed up in tie-and-jacket detective garb to play Marcellus Washington, Olshansky's reluctant ally on the police force. (His character is named after Marcellus Alexander, general manager of WCAU, the local CBS affiliate. Thomas Carter, a friend of Alexander's who is a Hack executive producer and who directed the pilot, proposed the moniker.)

How does Braugher beat the heat? "Six cups of coffee a day," he says with a straight face. "It's also the secret to my longevity."

And thanks to his Emmy-winning role as Detective Frank Pembleton on Homicide: Life on the Street, Braugher also has considerable experience with shooting street scenes.

"Over the seven years we did Homicide, I came to feel Baltimore was a crucial character in the show," he says. "That's how it is here. Philadelphia is a living, breathing entity on Hack. It's great to shoot in neighborhoods. You get an atmosphere you never get on a soundstage."

Of course, when the sidewalk is your studio, sometimes all the drama isn't in front of the cameras.

"Shooting outside all the time is intense," says guest star Jason Ritter, who plays a young heroin addict that Morse is trying to rescue in the show's third episode. "You get people coming up drunk and yelling stuff at you. Yesterday our cooler got stolen."

Ritter is the eldest child of comic actor John Ritter, who has a new series of his own in the coming season: ABC's 8 Simple Rules... . The 22-year-old, who lives in New York, is rapidly turning into a Philly fanatic. "I've never been here before," he says. "It's a really interesting city. Lots of beauty where you wouldn't expect it."

As you might expect, no one on Hack has more civic pride than Morse, 48. He loves the fact that the series is fostering its own neighborhood-watch program. He gestures at the people sitting on their porches, the crowd of curious onlookers gathered across the street, just east of the Mill Creek area. "You can see," he says. "Everybody comes out. Everybody is really proud we're here. It's like playing on the home team."

This day's shoot isn't terribly entertaining. Braugher drives up and parks his unmarked police car nose-to-nose with Morse's cab, emblazoned South Side Taxi. The two men have a brief conversation, and then Morse roughly pulls Ritter out of his backseat and drags him into an empty lot.

The show uses a duplicate model of the cab that creates a far greater spectacle. The mock car, used for driving scenes, is rigged with cameras but not an engine, so it must be dragged down the street.

"When you tow the cab through the city," Morse says, "it's like being in the Mummers Parade. You have police in front of you closing off traffic. You've got all these vans trailing behind you, hauling the equipment."

The show, which premieres at 9 p.m. Sept. 27, has employed numerous settings so far, from Boathouse Row to Jefferson Hospital. And the reception has been cordial. "The people are very friendly here," Braugher says. "We haven't gotten on their nerves - yet."

But even when you're putting together a big-budget prime-time show, one thing doesn't change: The mail must go through. During one take, a postal truck rolls uninvited down the street, right past the cameras. The director yells, "Cut!"

Braugher, interrupted in the middle of delivering a line, throws up his hands and asks with feigned astonishment: "We don't own the city?"

At the moment, Hack is just leasing.

---
Contact David Hiltbrand at 215-854-4875 or dhiltbrand@phillynews.com.