THE HEART-BREAK DOC
ON ST. ELSEWHERE, DAVID MORSE HAS BEEN WIDOWED, RAPED AND HAD HIS YOUNG SON KIDNAPPED
BUT THINGS ARE LOOKING UP
Author: Mark Morrison
Full Text: COPYRIGHT US Magazine December 1, 1986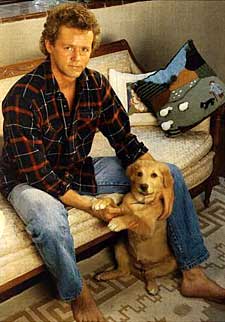 David Morse's golden retriever-mix puppy, Lucy, is trying to chomp on a clumpy object she's fetched from the garden. But she keeps dropping it on the hardwood dining-room floor of the actor's English cottage-style home in L.A.
"Can she eat a rock?" asks a visitor.
Morse considers the situation for a moment, then answers in that permanently parched voice of his, "She can try."
Everyone laughs – including the thirty-three-year-old actor. He has made a little joke. All right, maybe you had to be there. But it's a refreshing departure for the introverted New Englander, who leans back in a wooden chair and assures, "This is as talkative as I get."
It is probably no accident that for the past four years, Morse has become a rather awkward presence as Dr. Jack Morrison on NBC's prestigious medical series, St. Elsewhere. When St. Elsewhere first aired, in 1982, Morse was the closest thing to Dr. Kildare that the otherwise unconventional series had to offer. Boyish, guileless, comforting, he personified the archetypal TV doctor who seemingly had the power to touch foreheads and heal.
By the end of the first season, the idealistic resident and his wife, Nina, produced a son, and the producers were repeatedly told by the network to give the show "more Morrison" – to the point that it became a scripted in-joke. One of the series directors had previously worked on NBC's canine adventure show Here's Boomer and the network had always asked for "more Boomer." Thus, Morrison's nickname, "Boomer," was born.
But by the end of the first season, the ever-righteous Morrison was beginning to bore St. Elsewhere's staff of wiseacre writers. So, says the series' co-producer John Masius, "we chipped away at his façade." Three episodes into the second season, Nina died in a freak bathroom accident, leaving Morrison an emotional mess. Soon after that came news that Morrison had earned his medical credentials at a disreputable Caribbean college.
Then they really went to work. Morrison's son was kidnapped, and the doctor was raped at a prison where he was doing volunteer work. Even for devout St. Elsewhere addicts, Morrison seemed like he had become a consummate victim, and there was speculation about whether he'd be back.
True, such melodrama may give a guy the chance to flex his acting muscles. But Morse also knew the St. Elsewhere writers were notorious for drawing art from life, and he wondered if they were having fun at his expense. "It was hard not to take it personally when all these things started breaking Jack down. Because they do borrow from us a lot, and what we bring to the part inspires them to write more."
According to Masius and his partner, Tom Fontana, the only character trait Morse has brought to the part that they have since deliberately scripted is his stop-and-go speech pattern. "David's one of a bunch of actors who you give something to and they run away with it," says Fontana. "And his work has grown because of the way his character changes."
Now, his character is changing again – for the better – and Morse is relieved. "Not that it isn't terrific to act some of those things," he says, "but when you have to do that kind of stuff every week, you start wondering how they see you."
This season, Masius promises, "Jack is going to have a good year." He has already married an old flame in the season opener, and though he must now deal with the aftereffects of his rape, his former stoicism appears to be on the wane.
This is no accident, either. "I've decided to allow myself to be a little more foolish this year," Morse says, as Lucy drops the rock for the hundredth time. He starts to explain what he means – that he's going to be looser, take more chances, try to find a balance of gravity and levity on screen and off – but he can't quite articulate it and doesn't seem confident that anyone will understand.
But intentionally or not, his producers are behind him. "We always intended to bring him back [to goodness]," says Masius. "The true nobility of the guy will come out because of all he's come through."
Morse was born in Beverly, Massachusetts and grew up in nearby Hamilton, outside Boston. His father was a sales manager for Sylvania; his mother had all four children within five years, making David the elder brother to three sisters. He grew something into a class clown at school. "Somehow, when I was a freshman, I got singled out by the seniors as the guy to pick on. That's when I started getting involved with some of guys who were into drugs, and went the route of the hippies instead of the jocks or the greasers. It was the late Sixties, and there was a lot of experimenting going on. Drugs were happening at the time."
From his sophomore year to his junior year, Morse grew almost a foot, to nearly his current six-foot-four-inch, 170-pound frame. But playing the fool all the time was no longer a satisfying social escape. "It became very lonely being the funny guy," he says. "I went into therapy for a while in high school. It was a tough time."
Partly by choice, partly by circumstance, Morse became a loner. He left home to become the youngest founding member of the Boston Repertory Theatre. "But here I was, this seventeen-year-old who hardly had a vocabulary, and I was with a bunch of people with masters' degrees. They were all outgoing and confident. The only place I had security was in my silence."
But he worked constantly in the theater, playing all types and ages. After six years, he moved to New York. It was his height that helped him land the lead role of a basketball player opposite John Savage in the 1980 Film drama Inside Moves.
But Morse was noticed. Some people – NBC executive Joel Thurm was one – saw the film and thought he could be a television star. But, says the actor, "People told me Inside Moves was going to take off, and I should turn down everything. So I said no to television and decided to go back to New York."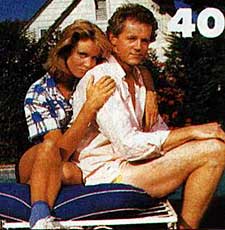 But life in New York was different now. Acting was no longer just a way of life; it was a career. The idea of struggling on forty dollars a week wasn't so romantic anymore, and after two years of unemployment, he decided to reconsider television. It was during this time of transition that he also met his wife-to-be, actress Susan Wheeler Duff, who was tending bar across the street from Morse's apartment building. "I knew I wanted to marry her, " he says.
Still, he was so shy he couldn't bring himself to ask her out at first. "It took me a week to get my courage up," he says. "Finally, I walked across the street, and all of a sudden, she walked out the front door and looked right at me – and I took off down Ninth Avenue, hoping she wouldn't remember me. I turned around, and she was staring at me. I thought, 'Now I've made a real fool of myself. I've got to go ask her.' I walked back, and she was behind the bar, and I said, 'You want to go out sometime?' And she said, 'Yes!' I said, 'Great' and walked out. A week later, she said, 'When are we going to go out?'" In a week, they went out, and a year later they got married.
Though his first ABC pilot, Our Family Business, was a failure, Morse tested for St. Elsewhere, and a determined Joel Thurm conspired to have him be out of town so he didn't have to read again. He got the role, and today Morse is a busy man. In addition to doing St. Elsewhere, he recently starred with his wife in a film called Personal Foul, due to appear next spring. Off screen, David and Susan each volunteer time for different causes – she teaches horseback riding to abused children, and he teaches inmates of Chino State Prison to read at Sunday church services. The couple are themselves faithful Episcopal churchgoers.
"I really love my family," says Morse, "having a home to take care of, having puppies, being able to work regularly – that feels good. But there are still these things I deal with inside. I don't think there's anything wrong with being a loner. That's my personality."
But in that respect, too, he is changing. For instance, he knows he suppresses a lot of feelings that build up and surface at inappropriate times – like when he's driving in L.A. traffic. So he's taking this year to loosen up, on screen and off. As if to test his temperament, Lucy circles the room and piddles on the floor. But no big deal. Morse can handle this. Of other challenges, he's not as confident. "I dread the day somebody falls over with a heart attack in a restaurant, and the whole place turns to me to do something about it!" Granted, it's not a big joke. But as he says it, David Morse is smiling.