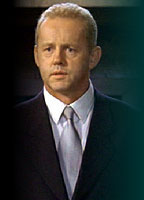 Archived News
| | | |
| --- | --- | --- |
| | Also available, two new photo galleries, Cross of Fire and Miracle on I-880. I was especially surprised by Cross of Fire, David really had an excellent role in this production. | |

Proof of Life is coming to DVD in Japan on July 20, 2001! Here is a copy of the Japanese flyer advertising the forthcoming production. Click here to get a larger version of the flyer and click here to see page 2 of the flyer.

Thanks Maxine and Yoshiko for sending it along!

Warner Brothers has just started an offical site for Hearts in Atlantis. Not much there, yet, although the site does say that the release date is September 28, 2001. Hopefully, there will be more there, soon.

In some TV news, David was a guest star on the TV series Nurse that originally aired on Thursday, Dec. 17, 1981 on CBS. In the episode, David played a registered nurse, who has a difficult period of adjustment. Here is a photo from the production.

Here is some information on one of David's much lesser known works. In 1987, David served as the host for a PBS series called KnowZone. Check out more information on the TV page for KnowZone and check out the KnowZone Photo Gallery.

Thanks Lynda for sending it along!

Here is a great article from the Nightime TV Stars, February, 1985 issue about David and his career. Written at the time that David was in St. Elsewhere, it features some very interesting information.

Lynda, thanks again!

| | |
| --- | --- |
| Now showing the Proof of Life Photo Gallery. This gallery is quite extensive and features some great photos of David from the movie. | |

The Proof of Life DVD was just released and it is really very well done. It seems that critics are finally recognizing this show for the truly well done production that it is. David is really wonderful in the role of Peter Bowman as is Russell Crowe as Terry Thorne. Don't miss it!

And congrats to David and Susan on their 19th wedding anniversary (June 19) and Happy 24th, Melissa!

With Proof of Life now released on video, many of you might be interested in the two pieces of work that served as the inspiration for the movie.

First, there is the book Long March to Freedom by Tom Hargrove, upon whom David's character of Peter Bowman was based. You can purchase the book at 1stBooks.com, either by downloading an electronic version or purchasing the paperback.

You can also read an interview with Tom Hargrove posted at the Maximum Russell Crowe web site. Dr. Hargrove has some great comments concerning David's portrayal of the kidnap victim in Proof of Life as well as explaining some interesting parallels between what was portrayed in the movie and what his real experience entailed.

The Bravo site in Canada has an interesting approach to movie reviews. Check out their reviews for Proof of Life and The Green Mile.

And here is an interesting Proof of Life review from the Film Journal.