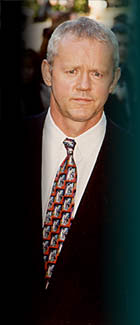 David Morse Online is an unoffical web site, for David Morse. To help us keep the site going, we need your help. If you'd like to support the site, we'd welcome your voluntary donation.
Archived News

for May 7, 2001
Site Launched April 21, 2001
The Crime & Investigation network is currently showing Hack episodes, at least here in the Seattle, WA area. It's great to see the show, again. Just last weekend, I watched Songs in the Night, one of my favorite Hack episodes.

Now, if only the Powers that Be would release Hack on DVD. Hack is not yet available on DVD. (12/28/2008)

To all visitors, of David Morse Online:

I do apologize for the lack of updates to the site, for so long. Yet, that will change, in the upcoming weeks and months. It's going to be a slow process, as I don't have a lot of available time. Yet my goal, remains, to keep David Morse Online as the only complete source for David Morse's exceptional career.


If you have any information to share, feel free to contact me. (12/28/2008)

David Morse has been nominated for a 2008 Emmy award (Best Supporting Actor in a Miniseries or a Movie) for his portrayal of George Washington in John Adams.

Also nominated in this category are:

Stephen Dillane as Thomas Jefferson
John Adams • HBO • Playtone in association with HBO Films

Tom Wilkinson as Benjamin Franklin
John Adams • HBO • Playtone in association with HBO Films

Denis Leary as Michael Whouley
Recount • HBO • Spring Creek/Mirage Productions in association with Trigger Street Productions, Everyman Pictures and HBO Films

Bob Balaban as Ben Ginsberg
Recount • HBO • Spring Creek/Mirage Productions in association with Trigger Street Productions, Everyman Pictures and HBO Films
(7/17/2008)

Here is an interesting story from Clator Butler:

About a year ago, I was with my wife and young son visiting the grounds at Mount Vernon. We live nearby, and in fact, had our wedding reception there at the Mt. Vernon Inn, so it is always a nice place to return to visit.

While walking about the grounds, I noticed a familiar man walking the grounds by himself about 100 yards away. I said to my wife "That looks like David Morse."

"Who?"

"David Morse, the actor. You know ... Tritter from House ... the Dad from Contact."

"What would he be doing here?"

"I don't know, but I swear that's him."

"It kinda looks like him, but it probably isn't. What would he be doing here?"

I didn't have a good answer other than "Visiting and learning about the nation's heritage" so the issue dropped.

Upon watching the second episode of John Adams, we were amazed when we saw the incredible likeness of George Washington. "That's a great makeup job they did ... who is that? He looks familiar."

I scratched my head for a second because I knew the actor and was trying to place his name to the face behind the makeup, and then my wife's mother chimed in ... "David Morse."

My jaw dropped. I had to pause the episode and exclaim "THAT's the man I saw at Mount Vernon. I know it's him. It's GOTTA be him."
To which my wife responds, "Yeah, I remember now. Yep, you were probably right."

"He was probably there researching this role."

Part of me wishes I'd struck up a conversation with Mr. Morse when I saw him at Mount Vernon. I might have learned about the role he was researching. But the surprise connection I had to it when watching the second episode was enjoyable in itself. I hope he enjoyed the visit. He's certainly doing a fantastic job representing the Father of our Country, and I look forward to his substantial role in the upcoming installment. (4/7/2008)

According to this story, Empire Film Group, Inc. has acquired all North American distribution rights to the controversial independent film, Hounddog , starring Dakota Fanning, Robin Wright-Penn, Piper Laurie and David Morse. Empire has initiated a marketing campaign to release the film to more than 500 theaters on July 18, and anticipates box office revenues of more than $15 million. (3/15/2008)

Newsday features this story David Morse talks about Broadway role, HBO movie. (3/2/2008)

The mini-series, John Adams, in which David Morse plays George Washington premieres on HBO on March 16, 2008. Here's the complete schedule for this 7 week series. (3/1/2008)

Here's a great interview with David Morse with movieScope Magazine. (9/8/2007)

David Morse has been cast in The Seafarer, which will begin previews Oct. 30 at the Booth Theatre with an official opening Nov. 15.

Conor McPherson's play, which was seen at the National's Cottesloe, will feature Ciarán Hinds, Conleth Hill, David Morse, Richie Coster and Jim Norton. Hill and Norton both appeared in the U.K. production. Playwright McPherson will also direct. (9/8/2007)

David Morse has been nominated for a 2007 Emmy Award in the Outstanding Guest Actor In A Drama Series category for his portrayal of Michael Tritter in House.

Also nominated in this category are:

Boston Legal • Christian Clemenson as Jerry (Hands) Espenson

ER • Forest Whitaker as Curtis Ames

Studio 60 On The Sunset Strip • Eli Wallach as Eli Weintraub

Studio 60 On The Sunset Strip • John Goodman as Judge Robert Bebe

The Sopranos • Tim Daly as J.T. Dolan

(7/19/2007)

Disturbia will be released on DVD on August 6, 2007. (7/19/2007)

A.W.O.L Update:

A.W.O.L. has been doing quite well, the film has been screened in 32 or 33 film festivals so far with another six months of fests to go. The film won some awards as well and was screened at the 2007 Cannes Film Festival (not in competition}

Here is a great photo of David Morse and the A.W.O.L cast. And here is one film poster of the show as well as another one. (6/10/2007)

Well, David Morse's latest movie, Disturbia, seems to "have legs," as I've heard them say, in the movie press.

In Disturbia's sixth week of release, it's currently at #5 in box office receipts, at a $71.7Mms gross.

Pretty good! (5/22/2007)

Even with the on-slaught of Spider Man 3, David Morse's latest movie, Disturbia, remains in the #2 position in ticket sales. As of May 7, 2007, the current box office for Disturbia is $60.4Mms. (5/8/2007)

For the third week, in a row, David Morse's movie, Disturbia, is AGAIN number one at the box office. Disturbia brought in $9.1Mms, for a cumulative total of $52.2Mms. (4/29/2007)

For the second week, in a row, David Morse's latest movie, Disturbia, is #1 at the Box Office. In the past weekend, the movie brought in $13.5Mms in ticket sales, for a cumulative total of $40.7Mms.

And as of today, April 22, Shia LaBeouf is the number one Name search, on the IMDB.com. And David Morse is number 83.

Wow. I can't recall when David Morse's IMDB search number has been that low. (which is good).

It's nice to see David Morse in a high-profile movie, again. (4/22/2007)

David Morse's latest movie, Disturbia, premiered at #1 at the box office, for the weekend of April 13 through April 15, 2007, with $22.2Mms.

While most of the reviews that I have read have focused on the teen star, Shia LaBeouf, here is an interesting take on David Morse's role. (4/16/2007)

David Morse will join the cast of the HBO miniseries John Adams, which stars Paul Giamatti as the second U.S. president, according to this story.

David Morse plays George Washington.

Based on David McCullough's Pulitzer Prize-winning biography, the miniseries will chronicle the first 50 years of the American republic. It will be told through the eyes of Adams' wife, Abigail (Laura Linney). Production begins shortly with a scheduled release date on HBO sometime in 2008. (3/22/2007)

According to this web site, David Morse's movie, Disturbia, has a USA theatrical release date of April 13, 2007. The site describes the film, as:

"In this unofficial spin on Rear Window, Shia LaBeouf plays a teenager distraught over his dad's death whose grief manifests itself in crimes leading to house arrest. Turning a voyeuristic eye on his suburb, he suspects his neighbor (David Morse) is a serial killer." (2/1/2007)

Well, this is perhaps just a local (Seattle, WA, USA) report, but David Morse IS back doing the voice-over for a commercial for the Children's Hospital and Medical Center, here in Seattle WA. I just heard it (again) tonight, on a Network TV station.

Here in Seattle, Children's is a tremendous hospital, associated with the Fred Hutchinson Cancer Center, and the University of Washington Medical Center. The Children's commercial had originallly been airing, with the David Morse, voiceover, but not in the past 8 months. The commercial featured someone, else. But now, David Morse is back.

Interesting ... (1/31/2007)

Well, the press has certainly been vocal about David Morse's recent release, Hounddog. Mostly about the purported "rape scene" with 12 year old actress, Dakota Fanning.

Not much to do with David Morse. And even the "rape scene," a big brou-haha, about nothing.

But, As this web site, reports:

"As for the most over-hyped film, it simply has to be Hounddog. The press screening I attended was packed to the rafters, no doubt full of hacks lured by the whiff of controversy. Starring Dakota Fanning - the little moppet that helped Tom Cruise save us all in War of the Worlds - as the Elvis-loving hick Lewellen, the pre-screening furore was all about a rape that the 12 year-old Fanning's character is subjected to. As it turns out, this is one of the more restrained moments in this southern Gothic melodrama from writer-director Deborah Kempmeier.

The usually reliable David Morse, who plays Lewellen's father - struck by a bolt of lightening and turned literally into a simpleton - will most certainly want to forget this shambles." (1/28/2007)

This site reports that David Morse is filming a new movie, Passengers. "David Morse has joined Anne Hathaway and Patrick Wilson in the cast of this thriller about survivors disappearing one-by-one in the aftermath of a plane crash." (1/28/2007)

This is a self-proclaimed "first review of Hounddog." (1/23/2007)

Here's a great article about David Morse's movie, Hounddog. (1/20/2007)

Check out this movie trailer for David Morse's upcoming movie Disturbia.

Creepy ... (1/19/2007)

Here's a Fox House Video clip featuring David Morse, Hugh Laurie, and Robert Sean Lenoard filmed on the set of House. (1/19/2007)

David Morse fan, Celeste, has this report of the A.W.O.L. screening held at the Egyptian Theater in Hollywood on January 10, 2007:

"It was my first time to an event like this. There were around 200 people. They showed each short then the Q&A with the director, or producer afterwards. I asked Producer Jessica Wethington what it was like working with David, and how in the world did they get him? She said 'It's never how good David is, it's the amount of brilliance he delivers each time,' she said, 'he was so patient with us and professional and just an amazing person to have around.'

She also mentioned all the actors worked the 9 day shoot for free. One of the days went into day two with no sleep.

They submitted a script to him through a casting director then got word back that he would read it, then boom he wanted to do it. The story was intense and hard to watch at times. David's character was in a state of turmoil the whole time.

David was awesome in the role." (1/19/2007)

St. Elsewhere - Season 1 has been released on DVD. Check the DVD Price Search web site to order online. (1/19/2007)

I continue to receive, email, with the writers, wondering, when the DVD of David Morse's series, Hack, will be released. As of this posting, there's been no news of any upcoming DVD release of Hack.

I'll just say that for my part, I don't think that Hack will be released on DVD anytime, soon. (11/19/2007)

Don't forget to check out the News Archive!
Search the David Morse Online Web Site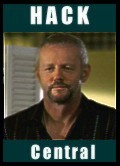 Hack news, episode summaries, photo and video galleries at Hack Central.