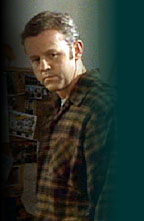 Archived News
HIA Alert!

One lucky fan was in attendance at the Gala Premiere of Hearts in Atlantis on Friday September 7, 2001. Direct from Toronto, Susan checks in with this report.

"Well, you already know David wasn't at Hearts. Saw Hopkins, Hicks and the rest of the cast. Very cool, the red carpet and at the beginning, they have the cast come on stage and say a few words."

Click here to view Susan's summary of David's role in the film. WARNING: Possible plot spoilers, so if you plan on seeing the movie and don't want to know anything about it, don't read it!

Our roving correspondent also reports, "In addition, there was a press conference with Anthony Hopkins telecast on Rogers TV. Roughly quoted, Mr. Hopkins said, "David Morse is brilliant as the adult Bobby. He captures young Bobby's facial expressions and body movements perfectly. I think he must have studied some of the footage of Anton and he just did a great job."

Thanks, Susan!

Sony issued a Press Release when Double Vision completed filming in July. Some interesting info. The scheduled release of the movie is early 2002 in Asia. Hopefully, soon thereafter, elsewhere.

Can we hope for the success of Crouching Tiger, Hidden Dragon for Double Vision?

Place at the Table was a one hour TV production in 1987 that David had a role in. Not much is yet known about this previously unknown TV appearance, but check out the Place at the Table TV page.

| | |
| --- | --- |
| | Now available the all new Inside Moves Photo Gallery. This gallery replaces the prior one and the photos are a bit better than the prior version. |

This site features some photos from The Slaughter Rule taken by someone who was involved with the costume design.

| | |
| --- | --- |
| The Hearts in Atlantis Trailer is now available on the official site as well as a lot of other info about the film. From what is shown, here, this looks like it could be a really interesting movie. | |

| | |
| --- | --- |
| | Big Wave Dave's was a short lived television series starring David as well as Adam Arkin, Jane Kaczmarek and Patrick Breen. This Photo Gallery features two of the episodes and the show was really quite funny. Too bad it didn't last. |

It seems there is an extended version of Brotherhood of the Rose. Shown on Japanese television, this version includes large chunks of the production that were simply removed from the VHS version commonly available. The show really makes a lot more sense with the missing footage. Check out the new Photo Gallery of the missing scenes.