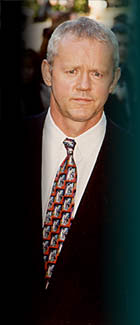 Help Support
David Morse Online
David Morse Online is an unoffical web site, for David Morse. To help us keep the site going, we need your help. If you'd like to support the site, we'd welcome your voluntary donation.
Archived News

for May 7, 2001
Site Launched April 20, 2001
This Media Week story Gearing Up For Fall 2003: Old Shows in New Time Periods recaps the ratings for July 18, 2003 and comments on how the show might fare in the fall season. For Hack, they say:

"Hack/CBS Saturday 9:00 p.m. 7/19/03
HH: 3.5/ 7 (#2). Viewers: 4.79 million (#2), A18-49: 0.9/ 4 (#3t)

Once the fall season beings, expect the older skewing Hack to perform at similar Friday levels this season. In other words, it could be better but could be worse. (7/26)

Here's is some background information about the actress Jacqueline Torres, who plays the ex-nun, Liz Garza, turned probation officer who lives next door to Mike Olshanksy.

Jacqueline was previously in F/X: The Series. (7/23)

Keith Moyer is the latest addition to the Hack: Up Close and Personal section.

Keith worked on Hack Episode 1-15 Brothers in Arms. Check out his story as well as the stories of the other individuals who have had the opportunity to work on the show. (7/22)

| | |
| --- | --- |
| | CBS has announced that Hack will make it's 2nd season premiere on Saturday, September 27, 2003 at 9:00 PM ET/PT. (7/21) |

The first episode in season two of Hack is called See No Evil and is being directed by Bob Singer, our Hack insider reports.

The new recurring character of the young con man Olshansky takes under his wing is named Jamie, and is played by 26 year old actor Matt Czuchry. Two other actors that are featured in the episode include Chuck Cooper playing "Hayden" and James McCaffrey playing "Coslow." (7/17)

Shooting begins, today (July 16, 2003) in Philadelphia for the 2nd Season of Hack. If you would like to be an extra on the show, check out the Heery Casting web site. (7/16)

David Morse and Andre Braugher participated in the SAG Foundation's "Conversations" program in Philadelphia on June 26, 2003. Check out the SAG Foundation site for comments by attendees at the presentation. Thanks, Ella! (7/2)

| | |
| --- | --- |
| | Diary of a City Priest is now available on Region 1 DVD. You can order a copy at Buy.com . |

Hack will be airing on Saturdays at 9:00 PM PT/ET starting with the July 12 repeat showing of Hack episode 14 Death of Innocence. The Saturday at 9:00 PM time slot will be the one the show will be airing in during the new Fall season. (7/1)

Hack Location Casting

Heery Casting is the company responsible for the Hack Location (extra) casting. If you would like to be an extra on the show, check out the Heery Casting web site. (7/1)

Gail Shister reports today in the Philadelphia Inquirer Gail Shister | A change of characters, but 'Hack' won't lose its religion. (6/23)

Filming for season two of Hack is expected to begin around July 15, 2003. (6/18)

| | |
| --- | --- |
| | The Screen Actors Guild Foundation site has posted some comments by attendees to their recent Conversations with David Morse program that was held in NYC on May, 20, 2003. Thanks, Tess! (6/13) |

On the TV Shows on DVD web site you can vote to have the 1st season of Hack released on Region 1 DVD. In order to vote, you have to register on the site (the registration is free).(6/9)

Columbia TriStar will be releasing the Region 1 DVD of Double Vision on August 5, 2003.

You can pre-order the DVD from Buy.com for $19.99. (5/29)

Double Vision has been released on Region 3 DVD (Southeast Asia and East Asia, including Hong Kong)

This Region 3 DVD is not generally playable on DVD players sold in other areas of the world (including the United States) unless your DVD player is an "all-region" DVD Player. (5/23)

Stu Bykofsky of the Philadelphia Daily News reports in his column, today:

Celeb Spotting

Hack star David Morse and his wife, Susan, enjoyed the Saturday matinee of Salome starring Al Pacino, Diane Wiest and Marisa Tomei at Broadway's Barrymore Theater. He was recognized, but unmolested. (5/22)

| | |
| --- | --- |
| | Susan was lucky enough to be able to attend the Screen Actors Guild Foundation Conversations series on May 20, 2003 in New York City that featured David Morse. Here are some photos from that presentation as well as some comments from Susan about the presentation. Thanks, Susan! (5/21) |

CBS will be airing a repeat of Hack episode 1-7 Husbands and Wives on Friday, May 30, 2003 at 9:00 PM PT/ET.

Let's just hope that CBS continues to rerun Hack episodes during the summer, instead of some, lame, "reality" show. (5/20)

Double Vision made its' NYC premiere on Sunday May 18, 2003 at the New York Asian Film Festival.

Hey, good news. Maybe we'll finally get a US release of the movie. Thanks Yoshiko, for the heads up (5/19)

Here's a great photo from the Noga Hilton Cannes web site of David and Tony Leung of Double Vision.

Maybe, someday soon, Double Vision will see the light of the box office day here in the United States. (5/16)

The two Philly newspapers check in today with stories of Hack's renewal with Gail Shister in the Philadelphia Inquirer Gail Shister | 'Hack' will still drive Philly streets, but on a new night and Ellen Gray from the Philadelphia Daily News, Reason to celebrate, Philly: 'Hack' will be back!

This Hollywood Reporter/Reuters story also mentions Hack saying,

"The vigilante crime drama Hack will move from Friday to Saturday, where CBS executives hope to make both the show and star David Morse a little less dour. "We've got to get him to smile once in awhile," Moonves admitted. " (5/15)

This E! Online story mentions Hack's renewal saying:

"Two actors who won't be standing in line for unemployment next year are David Morse and Andre Braugher stars of the sophmore (sic) series Hack, which received an 11th hour pardon from network programming execs. Hack will fill the Saturday night slot vacated by recently nixed series The Agency. "

It probably really was an "11th hour pardon." But we will have Hack, for at least one more season. And perhaps more if the ratings perk up on Saturday, at 9:00 PM PT/ET.

According to the email received at this site, Hack has picked up lots of fans, during its' initial run. Let's hope these new fans translate into better ratings! Hack is a great show and deserves a long run. (5/14)

It's Official! - Hack is Renewed for 2003/2004

CBS has renewed Hack and will be airing the show on Saturday nights at 9:00 PM PT/ET. Hack will be competing against the NBC Saturday Night Movie on NBC and The Wonderful World of Disney on ABC. (5/14)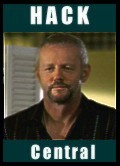 Hack news, episode summaries, photo and video galleries at Hack Central.
Your one-stop source for Hack news.


Heery Casting is the location casting company for Hack. Filming is going on now. Check the Heery Casting web site to see how you can apply to be an extra on the show.