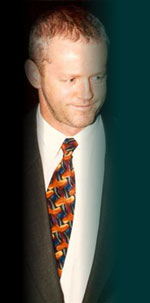 Help Support
David Morse Online
David Morse Online is an unoffical web site, for David Morse. To help us keep the site going, we need your help. If you'd like to support the site, we'd welcome your voluntary donation.
Archived News

for May 7, 2001
Site Launched April 20, 2001
Here's a great November, 2003 calendar wallpaper, courtesy of Tess.

Click on the photo at right to open up the calendar, and then right click to download it to your computer. Thanks, Tess. (10/21)

In the Overnight Nielsen ratings Hack scored a 5.8/9, #2 behind the World Series Game on Fox. (10/20)

Zap2It.com reports the fast national ratings for the Saturday, October 18 Hack episode Collateral Damage:

"At 9 p.m., the Marlins-Yankees game averaged 9.3/17. CBS stayed in second with Hack, 5.4/10. Toy Story 2 and Erin Brockovich remained tied at 4.6/8. " (10/19)

In the Nielsen final ratings for the week of October 6 through October 12, Hack came in at 5.9/10, 8.3 Mms viewers, #62.(10/16)

Zap2It.com reports the fast national ratings for the Saturday, October 11 Hack episode Presumed Guilty:

At 8 p.m., FOX set the tone for the night with a 6.6/13 with the baseball playoffs. CBS was a distant second with 48 Hours Investigates mustering a 4.6/9. NBC gave over its night to NASCAR, and ABC went the Toy Story route from 8 to 10 p.m., averaging a 3.7/7.

FOX continued in first at 9 p.m., while CBS gained in the ratings courtesy of Hack, 5.8/11. NBC and ABC maintained their positions. (10/12)

A Happy Birthday to David Morse who turned 50 on October 11, 2003. Best wishes from all of your fans.

Courtesy of WykydRed here is a Birthday Wallpaper! (10/11)

| | | |
| --- | --- | --- |
| | New Hack Wallpapers, at left, See No Evil and at right Hidden Agenda, both created by WykydRed. Thanks, WykydRed! (10/11) | |

Here's a great 2nd Season Hack Wallpaper, coutesy of Tess. Thanks, Tess! (10/11)

The 8th episode of the 2nd Hack season is called Blind Faith and is tentatively scheduled to air on CBS on November 15, 2003 at 9:00 PM PT/ET. (10/08)

The Final Nielsen Ratings have been released for the week of September 29 - October 5, 2003 and Hack placed at 8.1 Mms Viewers, overall #62. Check out the Hack Ratings for the 2nd season as well as the Hack Ratings for the first sesason. (10/08)

Zap2It reports Friday's 10/4 Nielsen Fast Nationals ratings:

"CBS took the lead for good at 9 p.m. with the 5.8/11 for Hack. In its second hour, Lilo and Stitch earned a 5.1/9 for second place on ABC. America's Most Wanted on FOX was third with a 4.6/9, while NBC was a distant fourth with another repeat of Las Vegas."

A low-rated night for TV but at least Hack won its' time period. (10/5)

In the first episode of the new season, Hack scored a 6.1/11 share, with 9.3 Million viewers to place overall at #49. Check out Hack's Nielsen ratings for last season to see how this compares. (10/1)

| | |
| --- | --- |
| | CBS has shuffled the Hack epsiode line-up and the episode Hidden Agenda will now be airing on October 4, with Presumed Guilty airing on October 11. Check out the complete episode details for Hidden Agenda. (9/30) |

In the Nielsen Overnight ratings Hack scored a 6.5/11, which was 17% lower than The District (7.8/13) ratings in the 9:00 PM Saturday slot in the 2002/2003 TV season.

Not an auspicious beginning, but at least Marc Berman over at Mediaweek.com didn't place the show in the "Losers" category.

Stay tuned for the See No Evil episode photo gallery coming along soon. (9/29)

Zap2It.com reports the fast national ratings for Saturday, September 27, 2003:

"ABC took the lead at 9 p.m. with a 6.1/11 for the second hour of the Denzel Washington movie Remember the Titans, barely beating the season premiere of Hack on CBS, 6.0/11. FOX stayed in third with America's Most Wanted, 4.7/9, ahead of NBC's movie, Jerry McGuire. (9/28)

Here's a story from the The Philadelphia Daily News, 'HACK ' ADDS SOME ACTION, which starts:

"Hack fans who've been worried about CBS' promise to lighten up the show may draw some comfort from tomorrow night's season premiere of the Philly-based drama, in which David Morse's Mike Olshansky does not appear to have been turned into a singing, dancing cop-turned-cabdriver." more (9/26)

Paramount has now launched their own Hack web site. Big Ticket Television, Hack's production company is a division of Paramount Television Production, which is part of the Viacom Entertainment Group, a unit of Viacom Inc. Thanks, Susan for the heads up. (9/24)

Philly's Mix 95.7 radio station sponsored a Celebrity Shoe Auction, benefitting the American Cancer Society's, Making Strides Against Breast Cancer.

David Morse generously donated an autographed pair of his shoes, described as "Kenneth Cole Reaction, Johnny Suede Shoes, Market Value: $108" These shoes sold for $300 in the auction!

Thanks to everyone who gave their support. (9/24)

Here's a great new calendar courtesy of Tess for October, 2003, David's 50th birthday month. Right click on the image to download it to your computer.

Thanks, Tess, for sending it along. (9/23)

The complete Presumed Guilty episode details are now available. (9/21)

Complete episode details are now available for the first Hack episode of season two called See No Evil. (9/10)

Check out this New York Post story about Hack Philly Can Hack It. (9/7)

Various television sources are reporting that Jacqueline Torres, who has been playing the recurring role of Liz Varga on Hack (the ex-nun now a probation officer) has now been made a regular on the show, for Hack's 2nd season. And word, too, a possible "love interest" for Mike Olshansky?

Check out the Hack News page for details.

Here's a story by the Associated Press Philly-Based 'Hack' Entering 2nd Season. (8/23)

Stu Bykofsky reports in a story today (8/20/2003) in the Philadelphia Daily News, "Hack will be shooting at Old City Coffee on Church Street all day Monday, say Stu's Spies." (8/20)

Actor Jonah Wanicur, who was the first indidvidual to be featured in the Hack: Up Close and Personal section of this site is mentioned in this Philadelphia Inquirer story, Casting call brings many into 'Woods' , about the casting currently going on for M. Night Shyamalan 's new movie The Woods, scheduled to start filming in October:

"Jonah Wanicur, 23, of Cinnaminson, would agree.

'I got slammed against a wall by David Morse in an episode of Hack," (Episode 2, Favors) he said of his stint as a TV skinhead. "Seventeen times; it was pretty cool.'" (8/19)

Here's a story in the Philadelphia Inquirer New track for 'Hack' that gives some details on the direction the series will be going in during the 2nd season. (8/14)

The third episode of Hack's 2nd season is entitled Collateral Damage. The episode is directed by Michael Zinberg and written by Steven Phillip Smith and is currently filming. (8/10)

Jim Loftus joins the Hack: Up Close and Personal section with a detailed recounting of the three Hack episodes that he appeared in during Hack's 1st season.

Jim will also be appearing in the 2nd Hack episode of the 2nd season, Presumed Guilty. Check out what Jim has to say. (8/6)

Our Hack Insider reports that the 2nd episode of Hack's 2nd season will be called Presumed Guilty, with filming to be completed on Wednesday, August, 6, 2003. The episode is being directed by David Platt and will air on October 3, 2003. (8/4)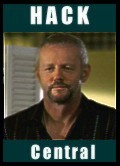 Hack news, episode summaries, photo and video galleries at Hack Central.
Your one-stop source for Hack news.


Heery Casting is the location casting company for Hack. Filming is going on now. Check the Heery Casting web site to see how you can apply to be an extra on the show.